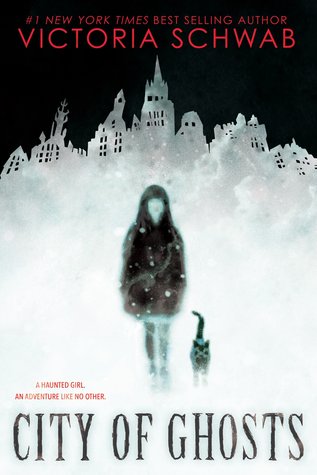 My Rating: ★★★☆☆ (+.75(its a thing fite me))
Genre: Middle Grade Paranormal
Cassidy Blake's parents are The Inspectres, a (somewhat inept) ghost-hunting team. But Cass herself can REALLY see ghosts. In fact, her best friend, Jacob, just happens to be one.
When The Inspectres head to ultra-haunted Edinburgh, Scotland, for their new TV show, Cass—and Jacob—come along. In Scotland, Cass is surrounded by ghosts, not all of them friendly. Then she meets Lara, a girl who can also see the dead. But Lara tells Cassidy that as an In-betweener, their job is to send ghosts permanently beyond the Veil. Cass isn't sure about her new mission, but she does know the sinister Red Raven haunting the city doesn't belong in her world. Cassidy's powers will draw her into an epic fight that stretches through the worlds of the living and the dead, in order to save herself.
I liked this book, but I kind of wish I could read it as an eight-year-old, I liked this book, don't get me wrong, but I just don't know, it was a good book, but that's where I start running out of things to say…
This book was good, and I know that little eight-year-old me would think it was the best thing ever, and I did enjoy this, I loved all the little Harry Potter references I loved the Indian character (this is what I meant in my diversity post) and the storyline was decent, more so towards the end, I think this confusion is a recurring theme when I read middle-grade and I think I can officially put it down to the fact that I'm so used to YA, I read middle-grade when I was about 6 or 7 and after that, I got started on YA, the only time I ever really go back to middle-grade is my Harry Potter re-reads, which are just a different type of book alltogether.
So, I did enjoy this book, it was a nice read and I'll probably pick uo book 2 if that's a thing that's going to happen, I liked the characters, and the humour and the family relationship between Cass and her parents, I think that because of the YA thing, I was just waiting for more character development, but considering this is a series, that could be coming later on.
So, that's it! Thanks for reading through my conflicted and confused thoughts on this book, but hopefully soon I'll get used to and be able to read more middle-grade, have you read this book? what did you think? If not, do you plan on it? let me know in the comments ❤
If you enjoyed this lovely little MESS OF A REVIEW, you can add it to your Pinterest 🙂