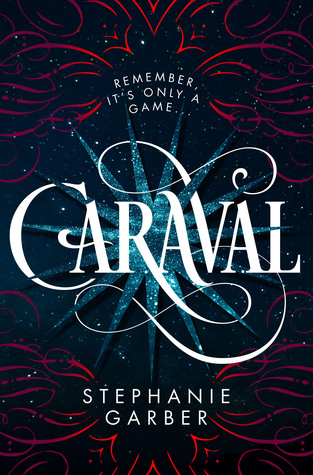 My Rating: ★★★★★
Genre: YA Fantasy
Scarlett Dragna has never left the tiny island where she and her sister, Tella, live with their powerful, and cruel, father. Now Scarlett's father has arranged a marriage for her, and Scarlett thinks her dreams of seeing Caraval—the faraway, once-a-year performance where the audience participates in the show—are over.
But this year, Scarlett's long-dreamt-of invitation finally arrives. With the help of a mysterious sailor, Tella whisks Scarlett away to the show. Only, as soon as they arrive, Tella is kidnapped by Caraval's mastermind organizer, Legend. It turns out that this season's Caraval revolves around Tella, and whoever finds her first is the winner.
Scarlett has been told that everything that happens during Caraval is only an elaborate performance. Nevertheless she becomes enmeshed in a game of love, heartbreak, and magic. And whether Caraval is real or not, Scarlett must find Tella before the five nights of the game are over or a dangerous domino effect of consequences will be set off, and her beloved sister will disappear forever.
Welcome, welcome to Caraval…beware of getting swept too far away.
I love this book more than I love most people, I first read this book a little while after it was release, after seeing it appear in a hundred Owlcrate and Fairyloot unboxings, and I read it in one sitting, I did not move, eat, talk, breathe or do ANYTHING until I read every single word of this books because it was just that good.
If you know anything about me, you know I am completely obsessed with circus-y magical things, and this book was full of it. The descriptions, the writing, Julian, the settings, Julian, the action, Julian, the constant mystery of this book, Julian and Julian were just a few of the things I completely adored about this book.
This is one of the few books, where most of the time, I genuinely had no clue as to what was going to happen, the way this book was written was phenomenal, it was perfect I loved it.
The magic in this book was brilliant, it was almost as though it could be real, because the magic was really subtle and delicate? Can magic be delicate? It sounds like the right word, just go with it.
Also, Legend is like, my favourite villain ever? Julian is like, my favourite person ever? Tella is like, the maddest bitch ever? Stephanie Garber is like, the most amazing plotter ever? I'm completely fangirling.
If you like magic, read this.
If you like circuses, read this.
If you like having no clue what is going on, read this.
If you are reading this sentence, read this book.
When I finished this book, I genuinely didn't know what to do with myself, I'd spent my whole day literally at Caraval and then it ended and I was confused and sad AND MAD AT MS. GARBER BECAUSE HOW DARE SHE PLAY WITH MY EMOTIONS LIKE THIS?
Okay, thank you so much for reading my ramblings on this uh-mazing book, I hope you enjoyed it! Have you read this books, what are your opinions on it? If you haven't do you plan on it? Let me know in the comments, thank you so much for reading and I'll talk to you in my next post!
Okay, so this is my first ever time doing this, so they are a tad rubbish, but I thought I'd give it a go, anyway… just click on the link and you can download them, you can also share these on Pinterest if you fancy xx
Also, if you enjoyed this review, add the post to your Pinterest with the artsy photo thingy i made 🙂