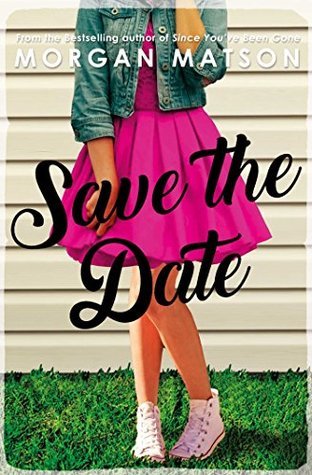 My Rating: ★★★★★
Genre: YA Contemporary Romance
Also, this review is completely spoiler-free, so there is no need to be cautious
Charlie Grant's older sister is getting married this weekend at their family home, and Charlie can't wait—for the first time in years, all four of her older siblings will be under one roof. Charlie is desperate for one last perfect weekend, before the house is sold and everything changes. The house will be filled with jokes and games and laughs again. Making decisions about things like what college to attend and reuniting with longstanding crush Jesse Foster—all that can wait. She wants to focus on making the weekend perfect.
The only problem? The weekend is shaping up to be an absolute disaster.
There's the unexpected dog with a penchant for howling, house alarm that won't stop going off, and a papergirl with a grudge.
There are the relatives who aren't speaking, the (awful) girl her favorite brother brought home unannounced, and a missing tuxedo.
Not to mention the neighbor who seems to be bent on sabotage and a storm that is bent on drenching everything. The justice of the peace is missing. The band will only play covers. The guests are all crazy. And the wedding planner's nephew is unexpectedly, distractingly…cute.
Over the course of three ridiculously chaotic days, Charlie will learn more than she ever expected about the family she thought she knew by heart. And she'll realise that sometimes, trying to keep everything like it was in the past means missing out on the future.
I have wanted to read a Morgan Matson book for the longest ever time, I remember reading the synopsis to Since You've Been Gone years ago and falling in love with it, but never actually getting around to reading it, but when I heard about this book, I knew I had to have it to read it on holiday, and it was p e r f e c t i o n
I loved this book, it is very difficult for a book to make me laugh out loud, but this book did it, several times. I adored every single one of the characters in this book (especially J.J) and the story line was perfect for me. To my surprise, there was very little romance, which i was expecting a lot of, because, what else was this book supposed to be about? And it was marketed as a romance, but there definitely was not a lot of it, which I have no issue with because i think it probably would've distracted from the rest of the plot.
And also, I just wanted to mention this: THIS BOOK DID DIVERSITY RIGHT, it was very casually mentioned that Sibohan had two dads, and then we all moved on, that is diversity done right!! The gay couple wasn't used as a marketing strategy or put in the blurb of the book, it was just there and it was normal!!! That is what diversity is supposed to be like. God bless Morgan Matson.
I loved the family theme of this book, I've personally always wished I was a part of a big family with like four siblings and this book made me want that even more (especially because of J.J, I want a brother like that) and I loved the idea of the comic strip and adding them throughout the book, I definitely think that there was room for more of the comic strips through the book.
Now, if there is one thing I didn't completely get about this book, it is the 'romance' which wasn't actually romance with the wedding planners nephew whose name I have already forgotten even though I literally read this book .64174387124 seconds ago, it just felt unnecessary to put in all the extra bits talking about him and over-analysing him when, at the end of the day, he had zero significance to the main character's life (but the supermarket bit was so cute so I'm not that mad)
And there we have it! I know this review was short as hell but I honestly don't have much more to say, my only feelings towards the characters was love and, unlike in fantasy books, there isn't many major dramas for me to have an opinion on if that makes sense. Soooo, yeah! This book was great, the Grant family owns my heart and I am buying every single thing Morgan Matson has ever written. Have you read this book? What did you think? If you haven't, do you plan on reading it? Let me know in the comments! Thank you so much for reading and I will talk to you in my next post ❤
If you liked this post and maybe want to convince people to read it, you can share this post in Pinterest, I even conveniently made a Pinterest-sized photo for you to use 🙂